Posts for tag: teeth grinding
By Smile Solutions
July 10, 2019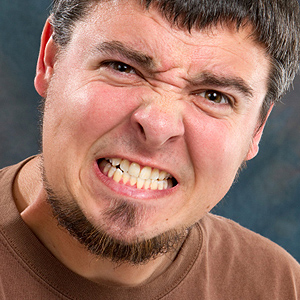 Teeth grinding and other biting habits are more than a nuisance — they can generate twenty to thirty times the forces of normal biting. Over the long term, this can cause significant damage to teeth and supporting gums and bone.
This particular kind of damage is known as occlusal trauma (meaning injury from the bite). In its primary form, the habit itself over time can injure and inflame the jaw joints leading to soreness, swelling and dysfunction. The teeth themselves can wear down at a much faster rate than what normally occurs with aging. And although less common but even more serious, the periodontal ligaments holding teeth in place to the bone can stretch and weaken, causing the teeth to become loose and increasing the potential for tooth loss.
There are a number of techniques and approaches for treating excessive biting habits, but they all have a common aim — to reduce the amount of force generated by the habit and the associated problems that result. A custom occlusal guard, often worn while sleeping, helps lessen the force by keeping the teeth from making solid contact with each other. Tissue soreness and swelling can be relieved with anti-inflammatory drugs like aspirin or ibuprofen, muscle relaxants or physical therapy. In cases where stress is a main driver, behavioral therapy and counseling may also be helpful.
Biting forces are also an issue for patients with periodontal (gum) disease. In this case even biting forces within normal ranges can cause damage because the diseased gums and bone have already been weakened. If gum disease is a factor, the first priority is to treat the disease by removing built up plaque. Plaque is the thin film of bacteria and food remnant that's both the cause and continuing growth of the infection, as well as tartar (calculus) from all tooth and gum surfaces.
A thorough dental exam will reveal whether a tooth grinding habit is playing a role in your teeth and gum problems or if it's magnifying the damage of gum disease. In either case, there are appropriate steps to stop the damage before it leads to tooth loss.
If you would like more information on teeth grinding or other biting habits, please contact us or schedule an appointment for a consultation. You can also learn more about this topic by reading the Dear Doctor magazine article "Loose Teeth."
By Smile Solutions
March 11, 2019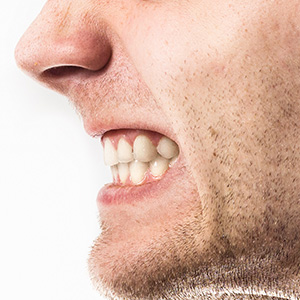 Chronic stress is like a tea kettle on the boil—all that "steam" has to go somewhere. We often do this through behaviors like biting our nails, binging on comfort food—or grinding our teeth. That latter habit, however, could have a detrimental effect on teeth, including excessive enamel wear or even fractures.
Also known as bruxism, teeth grinding is the forceful and often involuntary contacting of teeth that often generates abnormally high chewing forces. While not considered a relatively big problem with young children, it can be if you're an adult. While there could be other causes, chronic stress is often a  prime factor for adults with bruxism.
While teeth grinding can occur during the day when you're awake, it often occurs at night during sleep and may be associated with other sleep disorders like snoring. Although you might not be consciously aware of a grinding episode as it happens, you may notice its effects the next morning, including sore jaws or headaches. Over time, your dentist may begin noticing its effects on your teeth.
So, how can you lessen teeth grinding? For starters, if you're a tobacco user, quit the habit. Many studies indicate tobacco users report twice the incidence of teeth grinding as non-users. Excessive caffeine, alcohol or drug use can also contribute.
People have also found it helpful to address chronic stress through a number of relaxation techniques like meditation, more relaxing bedtime preparation, bio-feedback or therapy to "de-stress." Although there's not a lot of empirical evidence for these techniques' effectiveness, there's much anecdotal data from people who've found stress relief from them.
There's also a dental treatment using an occlusal guard that, while not stopping bruxism, can help prevent dental damage. Usually worn during sleep, the custom-made guard fits over the teeth of one jaw, usually the upper. Its high impact plastic prevents the teeth from making solid contact, thus reducing the biting force. You may also be able to reduce bruxism effects through dental work and orthodontics,
You and your dentist can explore the options to find the right treatment strategy for you. By taking action now, you may avoid much more extensive—and expensive—problems with your teeth down the road.
If you would like more information on teeth grinding and what to do about it, please contact us or schedule an appointment for a consultation. You can also learn more about this topic by reading the Dear Doctor magazine article "Teeth Grinding: Causes and Therapies for a Potentially Troubling Behavior."
By Smile Solutions
August 09, 2017
Ever since childhood, when her career as a model and actress took off, Brooke Shields has enjoyed worldwide recognition — through advertisements for designer jeans, appearances on The Muppet Show, and starring roles in big-screen films. But not long ago, that familiar face was spotted in an unusual place: wearing a nasal anesthesia mask at the dentist's office. In fact, Shields posted the photo to her own Instagram account, with the caption "More dental surgery! I grind my teeth!" And judging by the number of comments the post received, she's far from alone.
In fact, researchers estimate that around one in ten adults have dental issues that stem from teeth grinding, which is also called bruxism. (Many children also grind their teeth, but it rarely causes serious problems, and is often outgrown.) About half of the people who are teeth grinders report problems like persistent headaches, jaw tenderness and sore teeth. Bruxism may also result in excessive tooth wear, and may damage dental work like crowns and bridges; in severe cases, loosened or fractured teeth have been reported.
Researchers have been studying teeth grinding for many years; their findings seem to indicate that it has no single cause. However, there are a number of factors that play a significant role in this condition. One is the anatomy of the jaw itself, and the effect of worn or misaligned teeth on the bite. Another factor relates to changes in brain activity that occur during the sleep cycle. In fact, nocturnal (nighttime) bruxism is now classified as a sleep-related movement disorder. Still other factors, such as the use of tobacco, alcohol and drugs, and a high level of stress or anxiety, can make an individual more likely to experience bruxism.
What can be done for people whose teeth grinding is causing problems? Since this condition may have many causes, a number of different treatments are available. Successful management of bruxism often begins by striving to eliminate the factors that may cause problems — for example, making lifestyle changes to improve your health, creating a soothing nighttime environment, and trying stress-reduction techniques; these may include anything from warm baths and soft music at bedtime, to meditation and mindfulness exercises.
Several dental treatments are also available, including a custom-made occlusal guard (night guard) that can keep your teeth from being damaged by grinding. In some cases, a bite adjustment may also be recommended: In this procedure, a small amount of enamel is removed from a tooth to change the way it contacts the opposite tooth, thereby lessening the biting force on it. More invasive techniques (such as surgery) are rarely needed.
A little tooth grinding once in a while can be a normal response to stress; in fact, becoming aware of the condition is often the first step to controlling it. But if you begin to notice issues that could stem from bruxism — or if the loud grinding sounds cause problems for your sleeping partner — it may be time to contact us or schedule an appointment. You can read more about bruxism in the Dear Doctor magazine article "Stress and Tooth Habits."